High durable and corrosion resistant range of Telescopic Channel, Telescopic Drawer Channel, Drawer Slide Channel, Auto Hinges, etc.
About Us

Buddy Enterprises, although a new entrant in the business, is counted amongst the industries leading manufacturers of Telescopic Channel, Telescopic Drawer Channel, Heavy Duty Sliding Channel, Heavy Duty Ball Bearing Channels, etc. Durability, resistance to corrosion, precise construction, etc., are some features that are widely appreciated in our products. In addition to standard products, we also customize specifications and dimensions of products to meet the specific project requirements of clients. We do so without compromising on quality, shipment time or charging any additional costs as we seek to enhance our position as a preferable source to our clients and leader in markets.

We are headquartered in Jhajjar, Haryana where our integrated manufacturing facility helps us produce items, featured in our portfolio. It is staffed with talented and knowledgeable workers who are trained to tackle all the issues with efficiency. They keep a track on all activities, from designing stage to packaging and delivery, to offer most apt solutions each time.

Production

We have state-of-the-art manufacturing facilities which are staffed with highly skilled engineers and experts. Our well established network of suppliers ensures that we have a continuous supply of raw materials and resources. We only procure highly quality raw materials to make sure that we produce robust and high-quality finished goods. Our quality assurance methodologies allow us to minimize the defects and meet industry standards of quality. Catering to the ever-changing packaging needs of our customers, we also make sure that our staff use only the finest packaging material to minimize loss during transit.

Why Us?

We have a large manufacturing unit which allows us to meet our production targets and timeliness with ease.
Our capacious warehouse enables us to meet the bulk and as well as urgent needs of customers with the same degree of efficiency and speed.
We only source high quality raw goods which ensure that our products have durability and can withstand longer periods of wear and tear.
Our unit of customer supervisors provide steady support to our existing and new customers for any product or sales queries.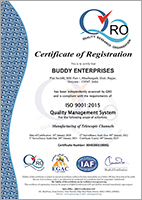 Get in touch with us